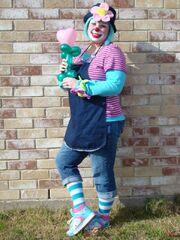 Pookie
is a female clown serving the DFW area. Services include balloon twisting, face painting, clown magic show and games!
She's available for parties, grand openings, reunions, carnivals, school and church functions, fundraisers, daycares, and more.... But she specialize in children's birthday parties!
She loves to make everyone's event truly special and a memory that will last a lifetime. Her fun yet easy going personality will delight even the most hesitant children, they usually become her biggest fans!
Her party guests call her "Pookie", her friends and family call her "Lindsey" and her four sons call her "Mommy". She has professional training in clowning, she studied under the amazing Andy "Smiley" Anderson in his clown course and graduated in November 2008.
She's a member of Cow-town Clowns and she's constantly trying to learn more and improve her skills by attending workshops, conventions and through personal study. She's experienced in working with children. She love their sweet little faces, their curiosity and imagination, and their zest for life! As a young teen she started babysitting when she was 12, and she was a mentor in high-school for area elementary schools. In college she took classes in Child Psychology and hope to further her education to one day be a school teacher. She has done home day care, and she's currently employed at the YMCA as a kid-zone worker and supervisor. She gets to be with babies on up to pre-teens on a day to day basis. She has also taught Sunday School at her church and have taught various ages for the past few years. One of her favorite callings in her church was to be the music leader for the kids.
Her husband and Herself have been married for 14 years and we have four young boys; ages 3,6,8 and 10!. They are thrilled that she has decided to become a clown and that she can be with them during the week. she hope to one day include them in some of her clown acts!
She love children and people. She loves making people of all ages smile and have a good time. She truly believes that clowning was what she was meant to do because she just have so much fun doing it!
Activities
Edit
Along with her cheery personality she bring her clowning skills with me including:
Face Painting
Glitter Tattoos
Pookie Prints (handprint and footprint art)
Balloon Animals
Magic Show (with Trixie the rabbit!)
Maternity Belly Art
Ad blocker interference detected!
Wikia is a free-to-use site that makes money from advertising. We have a modified experience for viewers using ad blockers

Wikia is not accessible if you've made further modifications. Remove the custom ad blocker rule(s) and the page will load as expected.