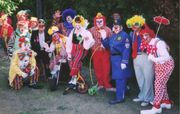 "
ON THE LAST DAY OF THE CARNIVAL
",
Mardi Gras
(
French for Fat Tuesday,
)
promiscuous masking is allowed on the streets, which are thronged with picturesque bands of maskers of every age and condition, and their costumes run in every garment from the clown to kings and queens."
The view shows a group of maskers in the street, most in costumes of clowns with polka-dots and pointed hats. A sign on the neutral ground reads "Welcome to the Winter Capital of America". Early 20th century postcard
Circus-style
Famous
Amelia Butler - (ca, 1840 - ????). A female clown best known for being the first female American circus clown that we have records of.
Charles Adrien Wettach – Grock (1880–1959), A celebrated Swiss clown.
Achille Zavatta (1915–1993)
Aurelio Atayde Guizar - Bellini - Founder and star clown at Circo Atayde Hermanos in México
António Melo – Batatinha (literally Little Potato), from Portugal. A very well known clown.
Bev Bergeron – Rebo the Clown – Television clown on the shows Magic Land of Allakazam & The Magic Circus
Emmett Kelly – Weary Willie the hobo clown; his son Emmett Kelly Jr took on the role after his death.
Ernie Burch – Blinko - (c. 1944-1995) Host of 1950's TV show. Ringling Bros. circus. The Greatest Show on Earth film. Named by Cecil B. DeMille
Josep Andreu i Lasserre – Charlie Rivel Other than Grock perhaps the most beloved and respected of all European clowns
The Chickys, classic European clown act
Jose de Jesus Medrano – Chuchin (1953–1984) a.k.a., a Mexican clown and performance star who died tragically.
Nicolai Poliakoff – Coco the Clown a longtime star clown of the Bertram Mills Circus
Daniel Rice (1823–1901) A famous American clown of the 19th century and principal inspiration for Uncle Sam.
David Konyot – 4 times winner best clown (U K) Hungarian circus festival, Polish circus Festival
Drosta – Real name unknown. European
Emmett Kelly – Extremely well known American tramp clown
Charlie Cairoli - Italian-born British clown
The Fratellini Family – a dynasty of French clowns
George Carl – American clown who found great success in Europe. Performed Royal Command Performance for the Queen at the Palladium in London. He also received the coveted "Golden Clown" award from Princess Grace at the International Circus Festival of Monte-Carlo.
Glen "Frosty" Little – America's last living Master Clown and longtime "Boss Clown" with the Ringling Brothers and Barnum and Bailey Circus
Harty the clown – (1906–1986) Frank "Harty" Hart was chief clown for Billy Smart's Circus for 12 years. He toured the US and UK's biggest auditoriums, as well as appearing many times on TV. He even beat the panel on the BBC's What's My Line.
Johnny B, Kummiedjant Lokali
Ian P, Maltese Clown and Actor of the Rivendell Circus
Joe Jackson Sr & Jr. – famous tramp clown entree with a breakaway bicycle
Mikhail Nikolayevich Rumyantsev – Karandash (1901–1983) Soviet Clown and clowning teacher.
Johann Ludwig Jacob – Lou Jacobs (1903–1992) – During his 60 years in the American circus this Master Clown came to be known as one of the most famous clowns in the world through his innovative comic routines, compassion for others and strong dedication to his work. Credited with inventing the clown car gag.
Oleg Popov – Greatly admired clown from the Soviet Union and student of Karandash
Otto Griebling – (1896–1972) Prolific and influential Master Clown with the Cole Bros. and Ringling circuses. The single most admired and respected American circus clown of the 20th century
The Rastellis – European clown act
José Vega Santana – Remi (1958–present) – "Puerto Rico's Greatest Clown"
Vicki Gabereau – Rosie Sunshine - Ran as a candidate in the 1974 Toronto mayoral election
Versace - great clown and pantomime, world wide known from Mexico, touring with "Zirkus Charles Knie" meanwhile
Yuri Nikulin – Russian clown and actor
Jack Perry and Doug McKenzie – Zig and Zag Australian Television clowns
Contemporary
Rodeo
Film
Television
Charlie Chalk from the British children's TV series of the same name
Flunkie the Clown (also spelled Flunky), a character on Late Night with David Letterman, a bitter, chain-smoking, depressed, very unenthusiastic clown who helped Dave answer viewer mail about circuses and clowns, played by show writer Jeff Martin. The name originated with his first appearance, in which a viewer suggested that mail to Letterman was actually read by a "flunkie" (sic). The clown's catchphrase was <in a very unemotional voice> "yeah, it's a real panic."
Lucille Ball – I Love Lucy, The Lucy-Desi Comedy Hour, The Lucy Show, Here's Lucy
Jim Allen – Rusty Nails (1957–1972), Pacific Northwest children's television clown, and model (in part) for Matt Groening's "Krusty" character on the television program "The Simpsons"
Willie Whistle – WSBK-TV38, a clown who had a kids' show in the 1960s-70's. He got his name because he "spoke" with a squeeky whistle
Theatrical
Famous
Contemporary
Fictional
See also
Further reading
Poor Clown by Charlie Rivel
Behind My Greasepaint by Coco
Bert Williams – A Biography of the Pioneer Black Comedian by Eric Ledell Smith
The Book Of Clown by George Speaight
Bring On The Clowns by Beryl Hugil
Clown, My Life In Tatters and Smiles by Emmett Kelly and F. Beverly Kelly
The Clown In Times (Volumes 1–6) by Bruce Johnson
Clowns by Douglas Newton
Clowns by John Towsen
Clowns Of The Hope – Tradition Keepers and Delight Makers by Barton Wright
Felix Adler by Anne Aull Bowber
The Fool and His Scepter by William Willeford
Fools and Jesters At The English Court by John Southworth
Greasepaint Matadors – The Unsung Heroes of Rodeo by Jeanne Joy Hartnagle-Taylor
Grimaldi – King of Clowns by Richard Findlater
Grock – King of Clowns by Grock
Here Come The Clowns by Lowell Swortzell
Jest In Time: A Clown Chronology by Bruce Johnson
Life's A Lark by Grock
A Ring, A Horse And A Clown by John H. McConnell
Russian Clown by Oleg Popov
The Tramp Tradition by Bruce Johnson
Hammond, J.
Woven Gods: Female Clowns and Power in Rotuma (book review)
Handelman, D., Models and Mirrors: Towards an Anthropology of Public Events
Little, K., Clown Performance in the European One-Ring Circus. Culture, 1981. 2(1):61–72.
Rudlin, J., Commedia Dell'Arte; An Actors Handbook
Angels Can Fly, a Modern Clown User Guide by Alan Clay, Artmedia, ISBN 0-9578844-1-9
Famous Clowns
Lowell Swortzell, Here Come the Clowns: A Cavalcade of Comedy from Antiquity To the Present, Publisher: Viking Press, 1978 ISBN 0-670-36874-1
Frank Foster and Willan G. Bosworth, Clowning Through Publisher: Heath Cranston LTD London, 1937
Contemporary clowns
Circus Report magazine, Graphics 2000. ASIN B00006K8X5
Spectacle magazine. Circus Plus Publications. ASIN B00006KXUX
Film clowns
Larry Langman, The Encyclopedia of Film Comedy. Publisher: Taylor & Francis, November 1987 ISBN 0-8240-8496-9
Walter Kerr, The Silent Clowns. Publisher: Knopf – 1975 ISBN 0-394-46907-0
Alan S. Dale, Comedy Is a Man in Trouble: Slapstick in American Movies. Publisher: University of Minnesota Press, 2000 ISBN 0-8166-3657-5
Television clowns
Karin Adir, Great Clowns of American Television, Publisher: McFarland & Company, Incorporated Publishers – December 2001 ISBN 0-7864-1303-4
Theatrical
Stanley Green, The Great Clowns of Broadway. Publisher: Oxford University Press, USA September 1, 1984 ISBN 0-19-503471-6
Ad blocker interference detected!
Wikia is a free-to-use site that makes money from advertising. We have a modified experience for viewers using ad blockers

Wikia is not accessible if you've made further modifications. Remove the custom ad blocker rule(s) and the page will load as expected.