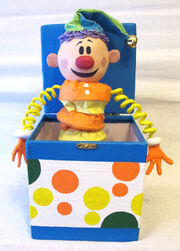 The jack-in-the-box
is a children's toy that outwardly consists of a box with a crank. When the crank is turned, it plays a melody, often "
Pop Goes the Wease
". At the end of the tune there is a "
surprise
": the lid pops open and a figure, usually a clown or jester, pops out of the box. Some jack-in-the-boxes open at random times when cranked, making the startle even more effective.
Origin A theory as to the origin of the jack-in-the-box is that it comes from the 14th century English prelate Sir John Schorne, who is often pictured holding a boot with a devil in it. According to folklore, he once cast the devil into a boot to protect the village of North Marston in Buckinghamshire. In French, a jack-in-the-box is called a "diable en boîte" (literally "boxed devil").
Ad blocker interference detected!
Wikia is a free-to-use site that makes money from advertising. We have a modified experience for viewers using ad blockers

Wikia is not accessible if you've made further modifications. Remove the custom ad blocker rule(s) and the page will load as expected.