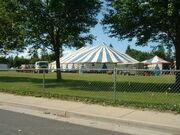 Culpepper and Merriweather Great Combined Circus
had very humble beginnings.
In 1985, Robert Johnson, Jim Hebert and Curtis Cainan started a small show. The three alternated announcing, performing and selling concessions during each performance for the first year. They didn't sell tickets, instead relying on donations received from passing a hat at the end of each show. Oblivious to everyone in the business who told them they could never succeed, they were able to gradually add employees, equipment and animals over the years.
Culpepper & Merriweather Circus was based in Queen Creek, AZ until 2001, when new ownership moved its base of operations to Hugo, OK, deep in the beautiful Red River Valley. Hugo is known as "Circus City, USA" for a good reason. We are the 20th circus to call Hugo home since 1941, and the third active circus currently operating from the seat of Choctaw County.
Ad blocker interference detected!
Wikia is a free-to-use site that makes money from advertising. We have a modified experience for viewers using ad blockers

Wikia is not accessible if you've made further modifications. Remove the custom ad blocker rule(s) and the page will load as expected.