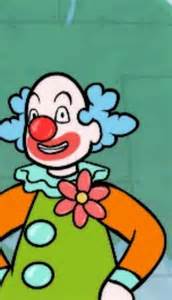 The Clown is a guy, and he is a funny clown. The Clown made a cameo appearance on May I Have a Word: Cower (though he was wearing a red outfit instead of his usual clothes pictured). The Clown also made an appearance in "Earth Day Girl", "Big Buisness" and other episodes.
Appearance
Edit
May I Have a Word
Earth Day Girl
Big Buisness
Ad blocker interference detected!
Wikia is a free-to-use site that makes money from advertising. We have a modified experience for viewers using ad blockers

Wikia is not accessible if you've made further modifications. Remove the custom ad blocker rule(s) and the page will load as expected.