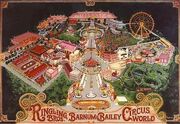 Circus World
was a theme park built north of Haines City, Florida in Polk County, on the east corner of the intersection of US 27 and Interstate 4. It was originally a property of the
Ringling Bros. and Barnum & Bailey Circus
, and was intended additionally to be the circus's winter headquarters.
The preview center for Circus World Showcase, as it was originally called, a 27,000-ft² building designed to look like a circus tent, was erected and opened in 1974. The building featured, among other things, an IMAX movie theater. Exhibits were built around it throughout the next two years, including a carousel, a Ferris wheel, a classic wooden roller coaster, several shows, and an interactive experience where visitors could actually attempt certain daredevil stunts such as tightrope walking and the trapeze (with copious safety equipment and expert help, of course). An 1000+ seat arena was also built featuring daily circus performances that included live tiger, elephant, equestrian, trapeze and acrobatic acts, as well as clowns and a live band. The Showcase part was eventually dropped, making the park "Circus World". Other live shows were added including a wild West rodeo that performed daily in a customized outdoor rodeo arena.
Mattel sold the circus back to its original owner, Kenneth Feld, in 1982, but kept the park, further expanding it with shows, rides, a new roller coaster, and animal exhibits including a petting zoo, but it never became profitable. They sold the park to Jim Monaghan in 1984 for USD $10 million. He added landscaping and several more rides, but ultimately sold the park to Harcourt Brace Jovanovich (Now Harcourt, a division of Reed Elsevier) in April 1986. HBJ, which had just bought several parks including the SeaWorld parks and Cypress Gardens, had a new idea for the area, and immediately closed the park, rebuilding it into Boardwalk and Baseball, which opened on February 14, 1987. Boardwalk and Baseball eventually closed on January 17, 1990. The property was later sold and developed into a residential and retail development called Posner Park.
Ad blocker interference detected!
Wikia is a free-to-use site that makes money from advertising. We have a modified experience for viewers using ad blockers

Wikia is not accessible if you've made further modifications. Remove the custom ad blocker rule(s) and the page will load as expected.